We're dedicated to bringing your project to life just the way you want it. That means we'll listen closely to your wishes and work tirelessly to exceed your expectations.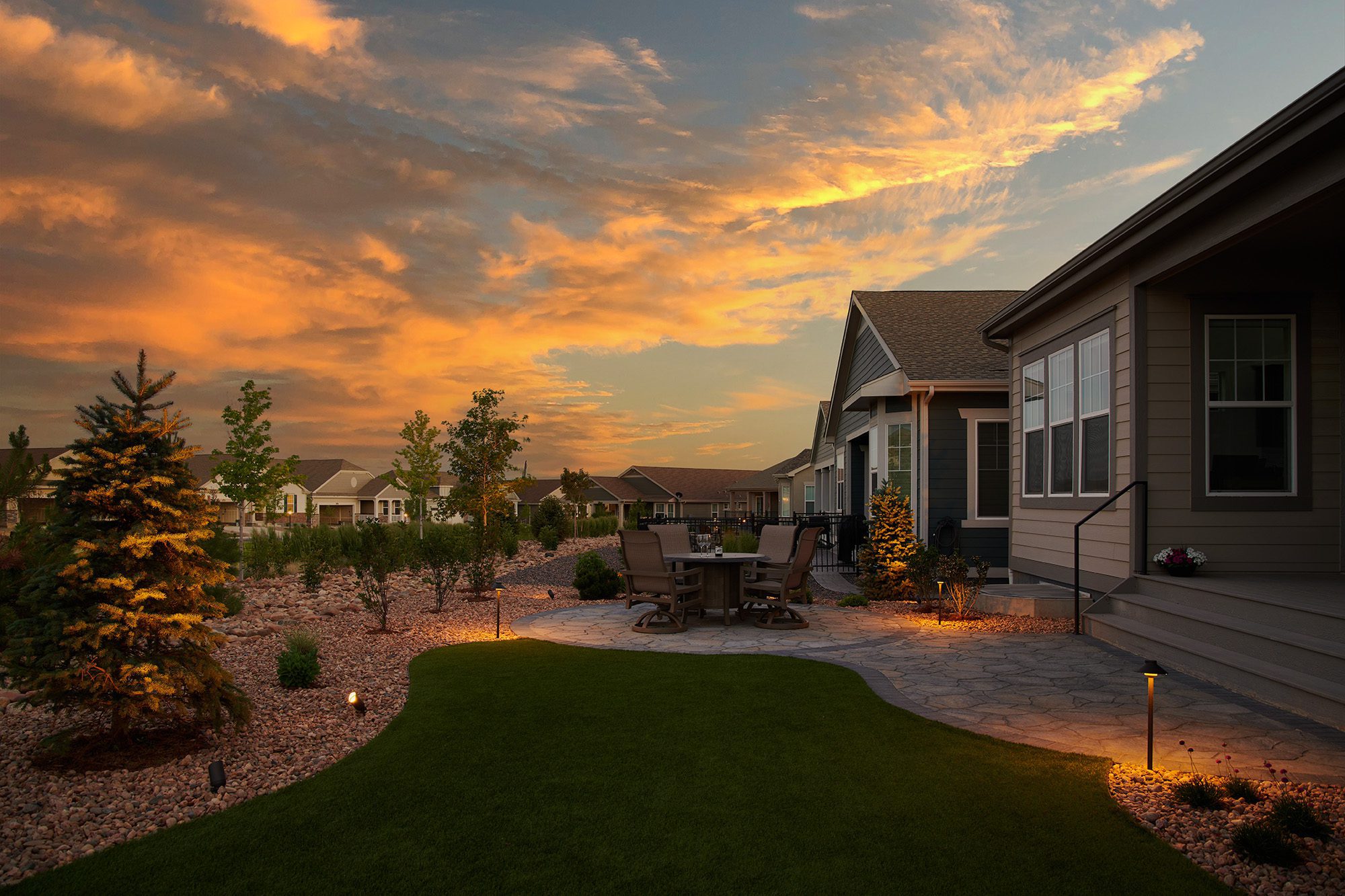 Outdoor Spaces That Make An Impression
You love entertaining with your loved ones and spending time outside, but you're not sure how to make the best of it when your backyard doesn't quite live up to your expectations…
Just a little upgrade like a new grill or a fire pit can totally enhance your backyard's functionality. Think about drinking your coffee on a sofa in your backyard every morning and sipping on a glass of wine after work. Or not having to stay stuck inside cooking while everyone is having fun outside. And if you like to have friends over often, you can go big and redesign your entire home landscape to create an outdoor living space that will impress everyone.
Some of the most popular outdoor living features homeowners like you are getting include:
Landscaping
Patio Accents
Pergolas & Pavilions
Pondless Water Features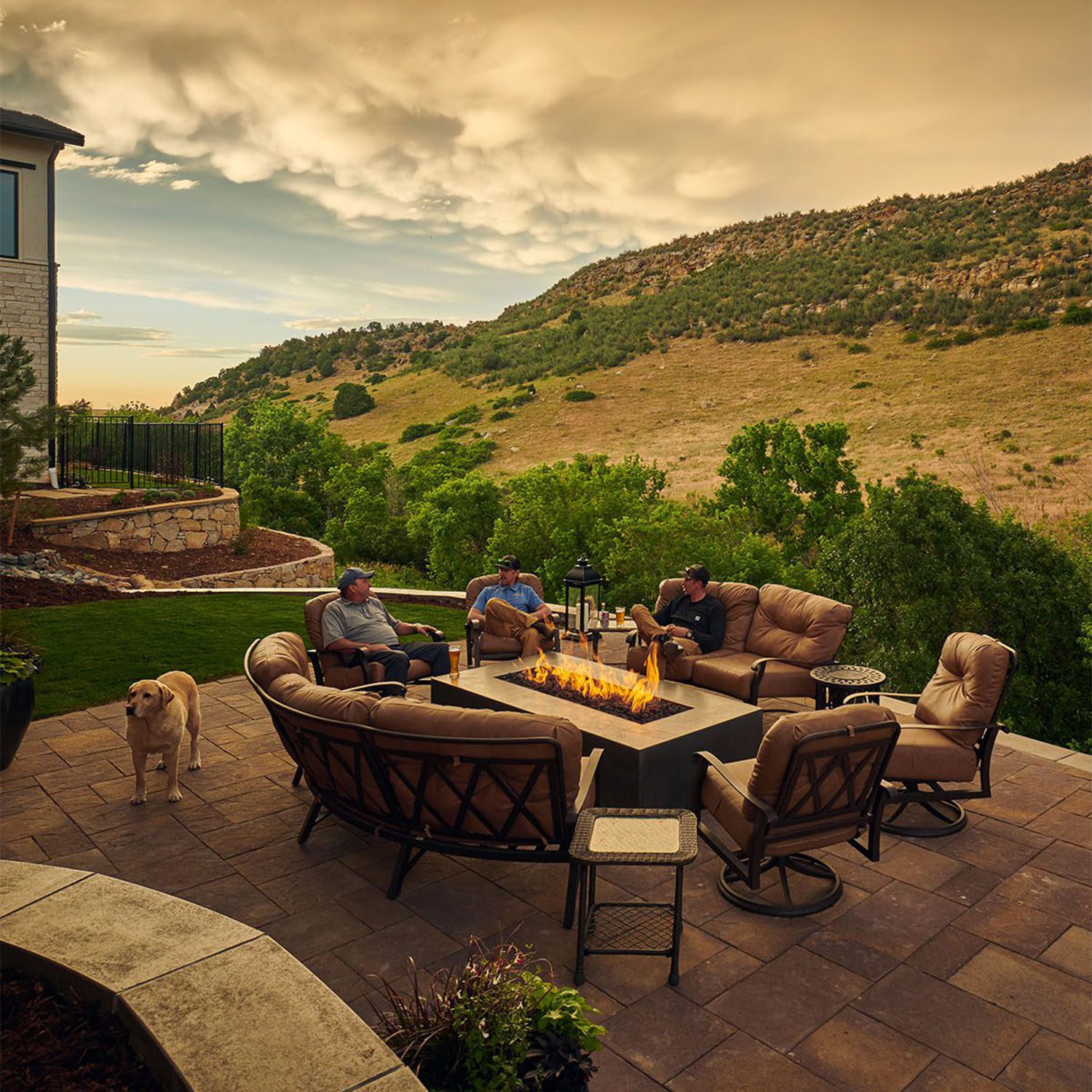 Starter Outdoor
Living Space*
Complete in 1-2 Weeks
Includes Design + Build – installation of a paver or natural stone patio with surrounding grading, small fire pit, and landscaping with drip line.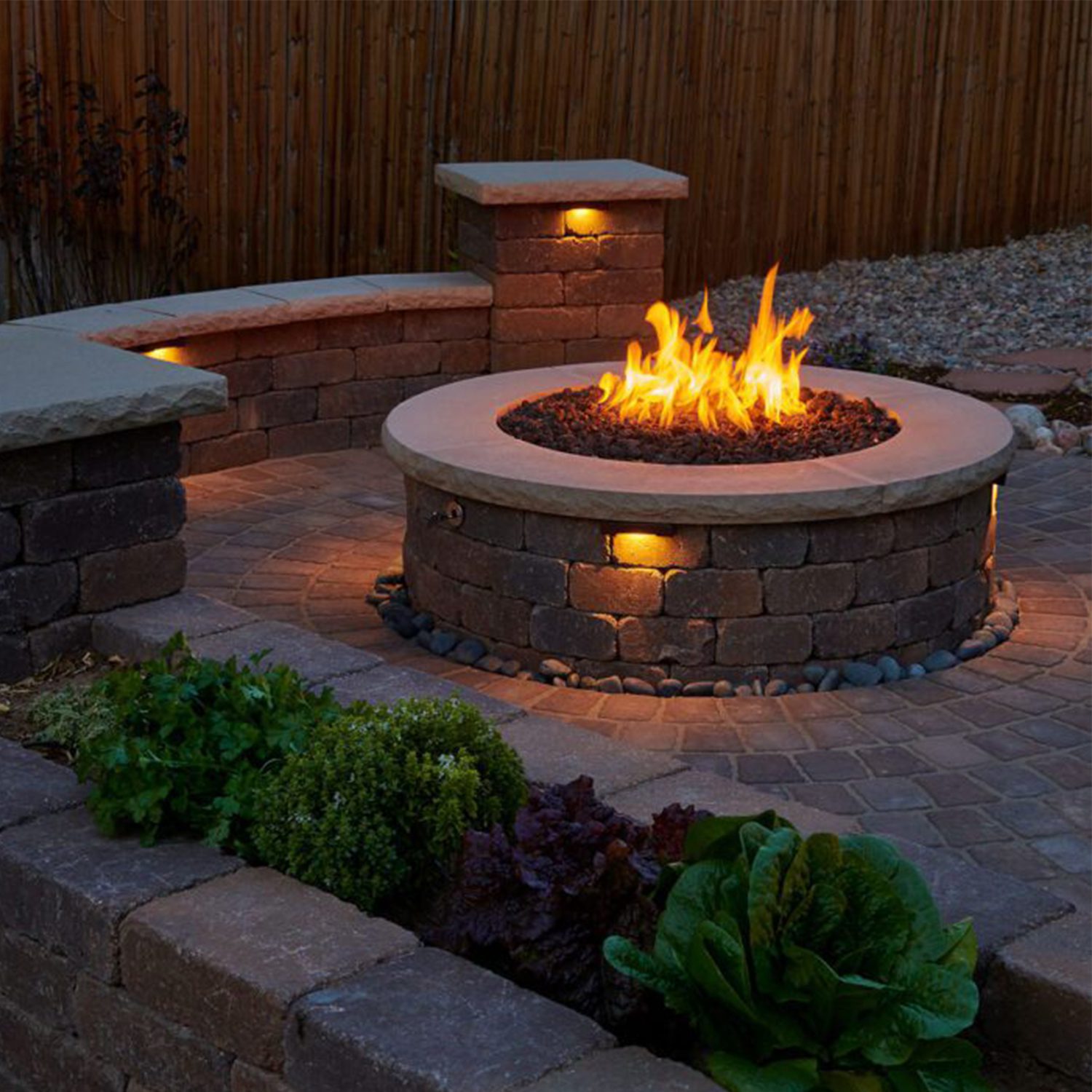 Median Outdoor
Living Space*
Complete in 2-3 Weeks
Includes patio installation with built-in fire pit, staircase to door, and seating wall. Also includes landscaping with drip line and plants, and standard exterior lighting package.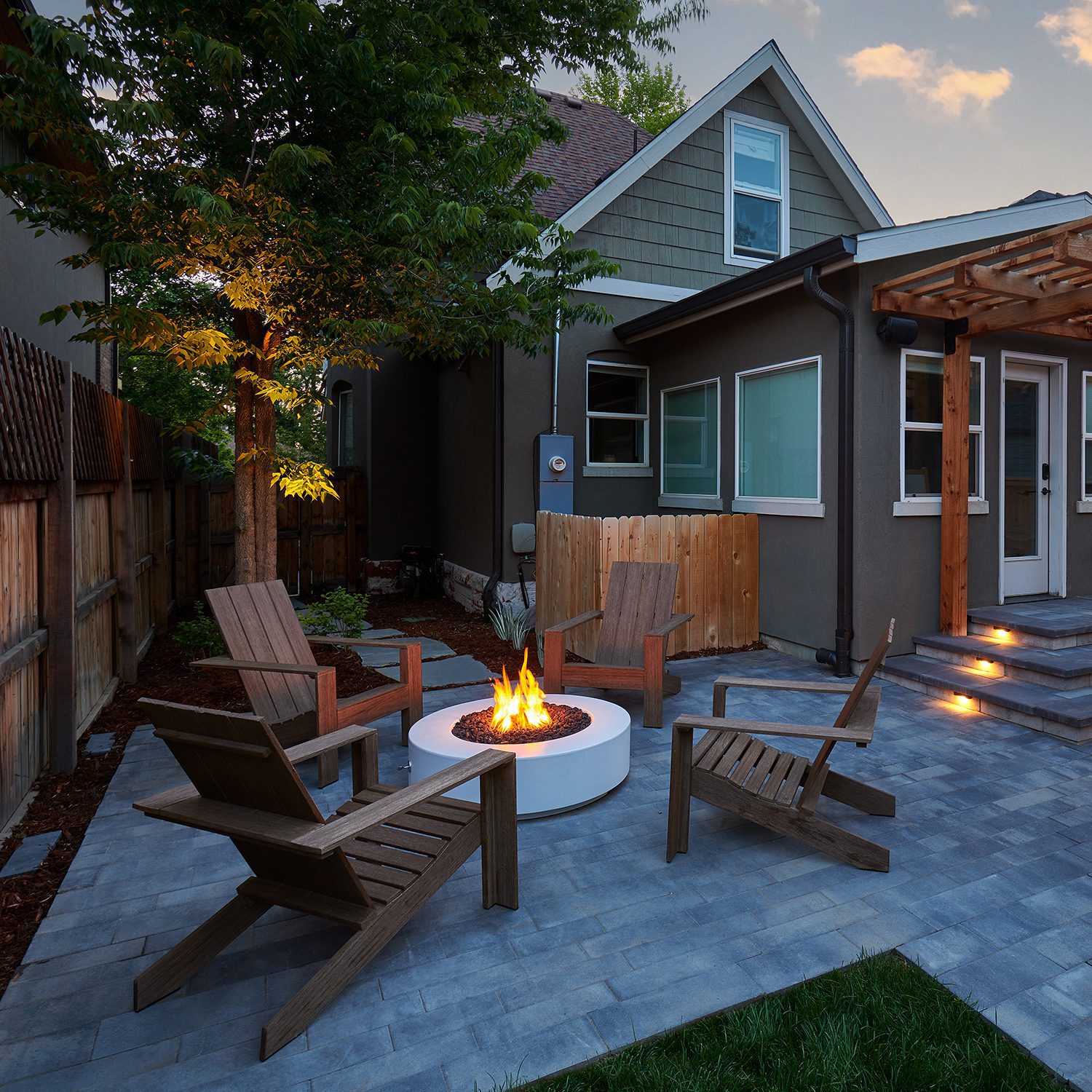 High-End Outdoor Living Space*
Complete in 4+ Weeks
Includes a large paver patio with raised sections, entertainment spaces, an outdoor grill and bar, and a large pavilion covering. Also includes stone steps, walkways, and landscaping with plants and drip irrigation. This is a completely custom-designed space.
*Prices are averages and may change depending on the total square footage of your outdoor space, the upgrades and materials of your choice, as well as the overall design. We'll give you a precise cost estimate for your unique outdoor living space after the in-home consultation.
Phone Consultation
When you first reach out to us, we'll schedule a phone consultation and get as many details as possible about your outdoor living project. As soon as we get a full picture of your vision, we'll discuss the design and the best choice of materials. Then we'll give you an estimate of the costs and the timeline.
Design & Build
When the design is complete, we order the planting material and any other components that form your outdoor space. As we work on your project, we'll make sure every little detail is perfect so that this becomes a place you're proud of.
Enjoy Your Outdoor Living Space
It's time to rediscover the joy of spending time outdoors. Now that you have the perfect outdoor living space to do that, gather all your friends and celebrate your new and improved home.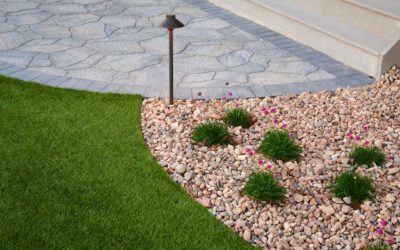 Willow WayIn the front yard we removed all the grass and xeriscaped the space to reduce water use and minimize maintenance. The backyard is intended to be used by the client and their dog so we installed artificial turf and a beautiful paver patio. No more grass!...
"So, to put it succinctly… we've had no fewer than 15 contractors at our house over the last 5 years and these guys are the ONLY ones we've called back to work with a second time. They're communicative, well-priced, and always go above and beyond with their work. We're more than satisfied with everything they've done. We recommend them to friends often. HIGHLY RECOMMEND!"
– Emma H.
"You guys. Seriously. Call Chuck and his team for all of your landscaping needs. Do your house and yard a favor – get in touch with Down to Earth. This is truly a remarkable group of people and I am so very grateful for their speed, experience, and work ethic. They do what they say they will. You can thank me later. (After you thank them for making your yard look like it belongs in a magazine!) Thank you so much!"
– Christa S.
"Chuck and the whole down to earth team did an amazing job with my backyard! They were quick to give me a reasonable estimate, were flexible when I needed to make some changes, and stuck to their projected timeline throughout the project – the actual work only took a day and a half and everything looks great."
– Emily H.
"Chuck, Jeff, and the whole Down to Earth team is excellent.  They offer a superb level of personalized care and keep our lawns and yards looking beautiful year round.  They are super responsive to any new needs or concerns we may have and they are always pleasant to interact with. I highly recommend DTE."
– Kat D.
"Chuck, Jeff and the entire team at Down to Earth Landscaping have completely outdone themselves with our home. We love it!!! They are so incredibly friendly, kind, knowledgeable, and willing to truly hear your needs. Upon walk-through, we received an estimate shortly thereafter, were easy to make change with, and did a beautiful job with our house. We cannot say enough good things – we plan to use them for future projects for our patio and completing phase 2 of our landscaping. You will not regret using Down to Earth Landscaping."
– Adam G.
"DTE were awesome throughout the entire process: from promptly coming out and giving us a very competitive initial quote, to quickly scheduling the work we wanted done, to getting it done quickly and professionally.
On schedule and at a very reasonable price. If you've ever attempted to hire a crew to come do some work on your house/yard in Denver in 2019, you know how rare that is. Oh, and their work is top-notch, and they do it all: fencing, landscaping, sod. Whatever you need, they can get it done."
– Adam G.
"Chuck and Down to Earth Landscaping were referred to me by a coworker and they were absolutely a pleasure to work with. Chuck was very accommodating to my schedule and was able to adapt on the fly when he and his company installed my new sprinkler system. They were very professional and easy to work with and I would recommend them to anyone who might need some landscaping work done."
– David G.